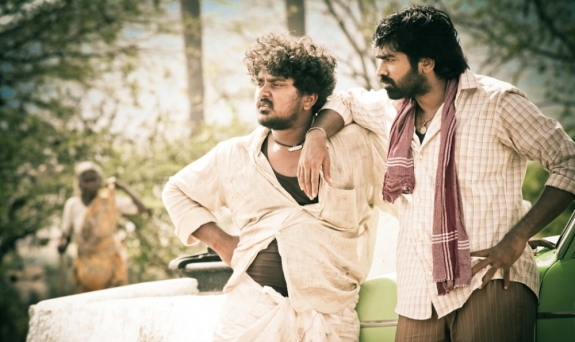 Review by: Menstrual Bazin
SCUM Rating: ★ ★ ★ ☆ ☆
I remembered how it felt the day my first car was sold off for scrap. Worst feeling ever. I'm not a petrol head, and it wasn't even my car! It was however, the first car I used almost daily for many happy years. You don't need to relate to this to dig this movie. But if you do, chances are you will PayPal me $19.95 for this awesome recommendation.
Just reading the synopsis is enough to sense its potential to be a great movie. Set in a small village somewhere in South India, this is a fun and heartwarming tale about a car and people who form a strong bond with it. Very fun to watch the way it changed and shaped the lives of villagers.
For interest of petrol heads, the car is the iconic Premier Padmini, an Indian made version of fiat 110D. If you have been in motherland or lucky enough to be Indian, you definitely know it (many taxis are still using a variant of one)
The story goes like this: Sometime in the 70s to early 80s, a friend lends his car to rich magnanimous (but simple) village chief. He falls madly in love with it. So does many in the village. His wife warns against having such dangerous attachments to someone else's property. Chief hires a driver Murugesan as he can't drive. Of course, being a small village, chief lends help to many tasks in village. Both car and driver. This transformed the lives of many villagers and thus form a deep relationship with the car. Without giving too much away, the rest of the story is about loss, sickness, love, romance, family, promises, etc…
Eg. the attachment to everyday objects like the the Padmini. Everywhere in India, you see auto rickshaws, trucks and buses richly decorated.Eg. Work culture. Arguments Driver have with the repairman. Drivers aren't supposed to try to fix their own car! And driver's fear of job loss if his boss (chief) finally learns to drive.
Eg. Traditional relationship between couples..
Eg. Religion and temple visits…
The list goes on. So it will pay to revisit after some extra exposure to this rich and interesting Culture.
If you like Cinema Paradiso and didn't find that too melodramatic, this is the movie to (almost) fall in love with.
However, be warned, there are Numerous scenes and setups within, that will chew away at your heartstrings. Many you can see miles away, be still can't help but be moved. Some are powerful precisely because of that. (Sorry no spoilers here.)
Within the 2.5hrs, you are transported to a world populated with many relatable characters that one easily imagines simple (and essentially good hearted) villagers to be like ~ All without being pretentious or stepping too much outside of how classical / contemporary movies are presented in Kollywood. Good for us SCUM-minded viewers…(Keeping it real!!) .. But it means this gem will probably not reach the eyeballs of the mainstream foreign movie going crowd.
One of the many non-hero led Kollywood movies made recently with alternative / indie leanings eg. Pizza & Soodhu Kavvum. This is a rewarding time to give South Indian cinema a second chance (erase your memories of Vijay, Rajinikanth & S Shankar). For the Tamil literate or those pampered enough to have Cinemas AND Television screening Tamil movies with English subtitles (here's looking at you Singaporeans!!). You're not worthy to be called cinephile if u don't partake!
Very entertaining, well made for Kollywood standards. Funny, very moving, but lighthearted. It is one you wouldn't be ashamed to say you enjoyed.