ANNOUNCING SCUMSCOPE:
SINGAPORE'S FIRST ALTERNATIVE FILM FESTIVAL
After months of preparation and negotiations, we are proud to launch SCUMSCOPE – Singapore's First Alternative Film Festival! It's been a long and hard road, but we are glad to announce that it's finally happening this October. Check out the films that will be featured this year:
---
—
DATE: 15 October 2015, Thursday
TIME: 8:00pm
VENUE: The Projector
—
• Singapore Premiere
• A SCUMScope Exclusive! (One-Off Screening for this festival only)
• R21 (Consumer Advice: Nudity)
• $13 per ticket
—
THE MASTER OF THE DARK ARTS
Synopsis:
Surrealist artist H. R. Giger (1940–2014) terrified audiences with his Oscar-winning monsters in Ridley Scott's ALIEN. Sci-fi, horror, music, album covers, tattoos and fetish art have been influenced by his dark, intricate paintings and sculptures depicting birth, death and sex. Both a mesmerizing introduction to Giger's oeuvre and a must-see for Giger devotees, Belinda Sallin's definitive documentary DARK STAR: H.R. GIGER'S WORLD shares the intimate last years of the artist's life and reveals how deeply he resided within his own artistic visions.
Behind the shuttered windows and ivy-covered walls of his residence in Zurich, Switzerland, DARK STAR brings viewers into Giger's mysterious realm: from the first skull he was given by his father at the age of six, to macabre dinner parties with his close-knit team, to the grisly souvenirs from his time spent on the ALIEN set and reminiscences about model Li Tobler, Giger's one-time muse, whose suicide reverberates throughout his work.
---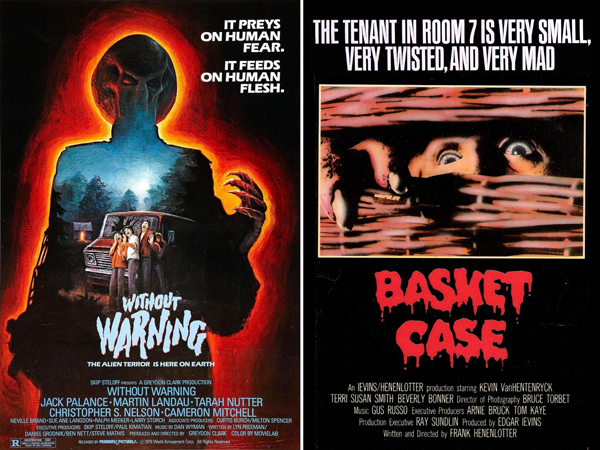 HALLOWEEN MADNESS DOUBLE BILL:
BASKETCASE + WITHOUT WARNING
—
DATE: 23 October 2015, Friday
TIME: 7:45pm
VENUE: The Arts House Screening Room
—
• R21 (Consumer Advice: Nudity & Violence)
• Free screening ($10 refundable booking fee)
—
SCREEN GEMS FROM THE 80s!
Basket Case Synopsis: Duane Bradley arrives in New York City, with a basket under his arm. Confined in that basket is his hideously mutated twin that was removed from Duane's side and left for dead when they were born! Angered over being separated at birth, Duane intends to seek revenge on the surgeons who separated them.
Without Warning Synopsis: A group of teenagers head out to the lake for a relaxing camping trip in the mountains. They ignore the warnings of the local truck stop owner and head to their destination. Things go terribly wrong when they find themselves up against an extra-terrestrial and its brood of flying killers!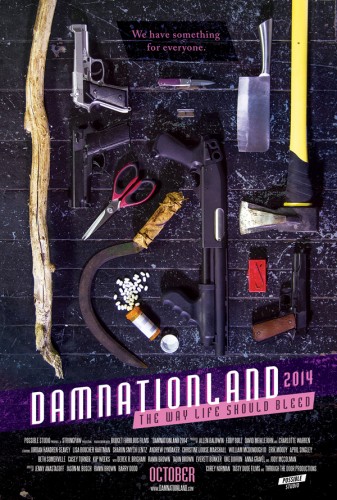 DAMNATIONLAND
—
DATE: 29 October 2015, Thursday
TIME: 8:00pm
VENUE: The Projector
—
• M18 (Consumer Advice: Violence)
• $13 per ticket
—
SEVEN IS THE MAGIC NUMBER
Synopsis: Damnationland is an annual showcase of genre-defying scary films from Maine filmmakers that redefine the classic thriller and horror categories with dark, surreal, and comical twists. Whether a hardcore horror fan, an art-house connoisseur or a curious casual filmgoer, Damnationland has something for everyone.
---
We hope you'll enjoy the selection of films, and please spread the word to all your loved ones!!