SCUM CINEMA PRESENTS:
The Raid 2
VENUE: The Arts House Screening Room
DATE & TIME: 27 February 2015, 7:45pm
RATING: R21 (Violence)
COST: Free admission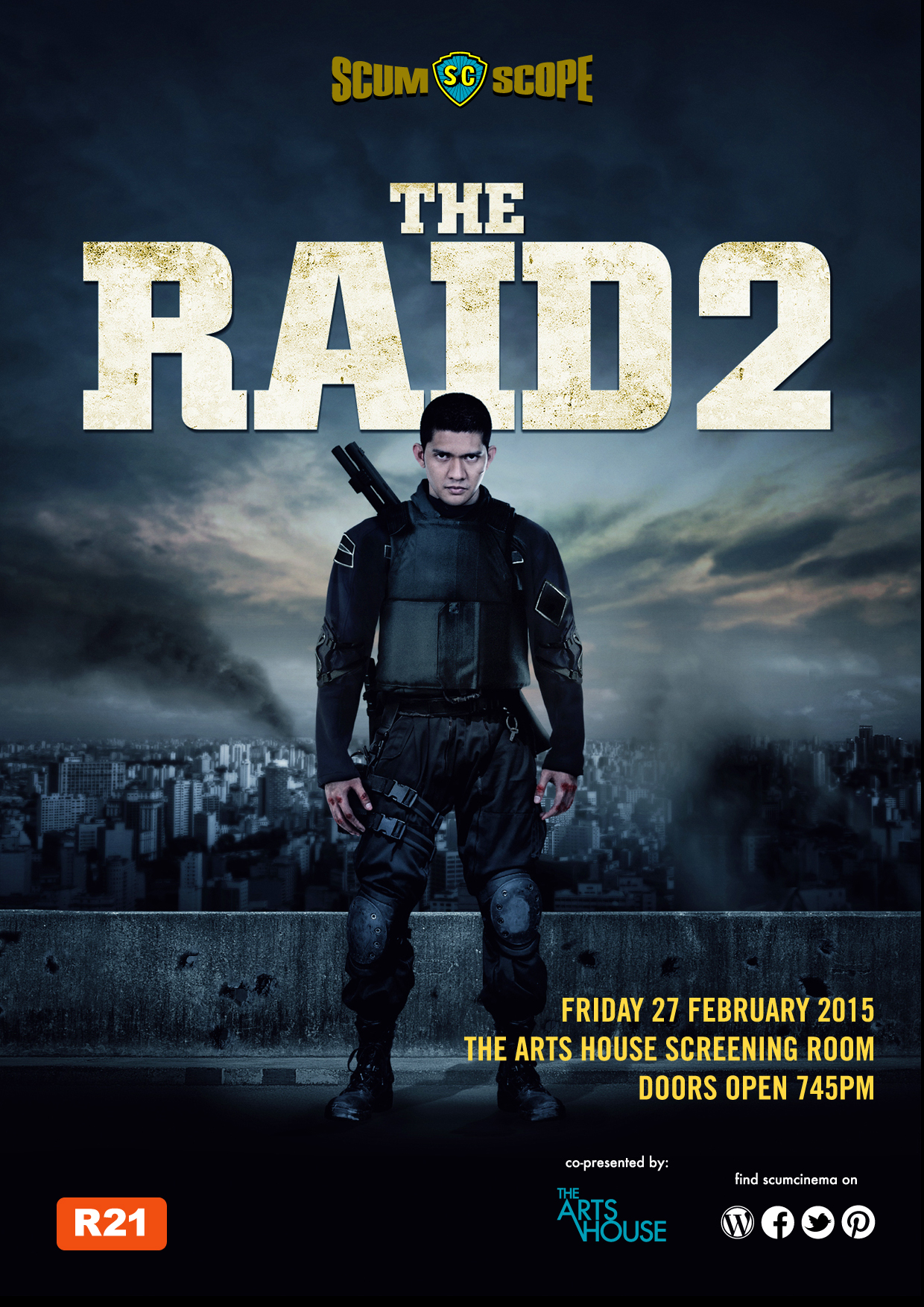 Director: Gareth Evans
Cast: Iko Uwais, Yayan Ruhian, Arifin Putra
2014 \ 150min \ Indonesia \ R21 (Consumer advice: Violence)
Plot Summary
Following immediately after the events of THE RAID, Rama (Iko Uwais) is forced to reinvent himself and go undercover in order to provide protection for his wife and child. And so Rama begins a new odyssey of ultra-violence, a journey that will force him to set aside his own life and history and take on a new identity as the violent offender "Yuda." In prison he must gain the confidence of Uco – the son of a prominent gang kingpin – to join the gang himself, laying his own life on the line in a desperate all-or-nothing gambit to bring the whole rotten enterprise to an end!
IMPORTANT NOTES — PLEASE READ
• "The Raid 2" is rated R21. Only adults aged 21 years or above are allowed into the screening room. Please have your ID ready for checks — you will not be allowed entry if you fail to produce a valid ID upon request.
• A fully refundable fee of $8 will be charged for each ticket booking. Download Peatix app to your smartphone (via the Android or Apple app store). Turn up for the event and show us your ticket reservations on your smartphone. If you don't have a smartphone, just tell us your name on arrival. Once confirmed, Peatix will refund your booking fee electronically thereafter.
• Seats are issued on a first-come, first-served basis (free seating arrangement). Once you've submitted your request, we will confirm your reservation. Your seats are not reserved until you hear back from us. Do note that you are only allowed to reserve a maximum of 2 tickets per transaction.
• "The Raid 2" will start screening at 745PM on 27 Feb 2015. Please be at The Arts House Screening Room before 715PM to register and collect your wrist tags.• Seat reservations will close on Feb 26, 12pm. Any c
ancellations MUST be done
BEFORE the ticket cut-off date and time
, otherwise your reservations will be locked-in. If you turn up for the event, the booking fee will be refunded, if not, it will be forfeited.
• The refund will be handled by the credit card company of the credit card used to purchase the tickets. The refund process will vary depending on the cut-off date of the credit card.
• Should the refund be done before the credit card cut-off date: The refund process will be handled in the current month so no money will be deducted for ticket payment. In most cases, both the ticket payment and the refund will appear separately on the credit card statement.
• Should tthe refund process be done after the credit card cut-off date: The payment of the ticket order will be processed. Peatix will refund the amount in the next month through a negative invoice
Note: Peatix are unable to look up cut-off dates of credit cards. Peatix accepts VISA, MasterCard and AMEX.