SCUM CINEMA PRESENTS: Jodorowsky's Dune
VENUE: The Projector
DATE & TIME: 23 April 2015, 7:30pm
RATING: N16 (Some Nudity)
COST: Free admission
Welcome to the first SCUM screening to be held at Singapore's latest indie cinema, The Projector!
We have prepared a very special film for this very special collaboration…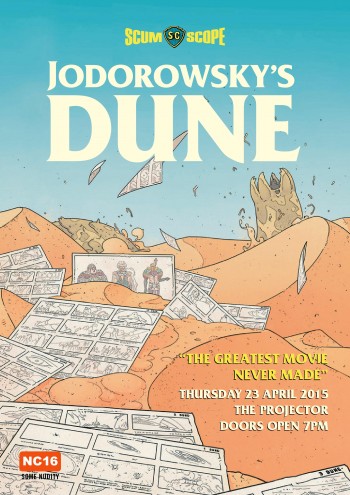 Director: Frank Pavich | Cast: Alejandro Jodorowsky, Michael Seydoux and H.R Giger.
2014 \ 90min \ USA/France \ NC16 (Consumer advice: Some nudity & drug references)

This fascinating documentary explores the genesis of one of cinema's greatest epics that never was: cult filmmaker Alejandro Jodorowsky's (El Topo) adaptation of Frank Herbert's sci-fi classic Dune, whose cast would have included such icons as Salvador Dali, Orson Welles and Mick Jagger. Director Frank Pavich tackles one of cinema's most enthralling "what could have been" stories.
Even though the project exists only in the imaginations of its creators, and as the hundreds of illustrations they left behind, Pavich's documentary chooses not to dwell on failure, but rather celebrates the ways in which the creative dreams of Dune planted seeds for many other iconic films that came after it, from Star Wars to Alien and countless more. This is an inspirational story about the power of the creative spirit, one that establishes Jodorowsky as a master of cinema and a true visionary of our time!
—
How to reserve a seat for the event
Please click here to book your seats now!
Please read the information to book your tickets
The number of seats you'd like to reserve (maximum of 4 seats per email request)
—
IMPORTANT NOTES — PLEASE READ
• "Jodorowsky's Dune" is rated NC16. Only adults aged 16 years or above (on the screening day) are allowed into the theatre. Please have your ID ready for checks — you will not be allowed entry if you fail to produce a valid ID upon request.
• A fully refundable fee of $8 will be charged for each ticket booking. Simply turn up for the event and show us your ticket reservations on your smartphone or if you don't have a smartphone, just tell us your name on arrival. Once confirmed, Peatix will refund your booking fee electronically thereafter.
• Seats are issued on a first-come, first-served basis (free seating arrangement). Once you've submitted your request, we will confirm your reservation. Your seats are not reserved until you hear back from us. Do note that you are only allowed to reserve a maximum of 4 tickets per transaction.
• "Jodorowsky's Dune" will start screening at 730PM on 23 Apr 2015. Please be at The Projector by 7PM to register and collect your wrist tags.
—
This is a once-in-a-lifetime chance to watch this mindblowing documentary on the big screen in Singapore, so don't miss it!