SCUM CINEMA PRESENTS:
Female Convict Scorpion: Jailhouse 41
VENUE: The Arts House Screening Room
DATE & TIME: 5 June 2015, 7:45pm
RATING: R21 (Some Nudity & Violence)
COST: Free admission
This June, we will be exploring the strange world of Japanese Pink films. Pinky Violence is a film genre that gained prominence in the Japanese film industry in the late 1960s and blossomed through till the late 1970s. The term is coined when erotic elements in Pink films (Japanese theatrical film that includes nudity) fused with violence typical of Yakuza crime flicks. Pinky Violence films have influenced many Western directors, namely Russ Meyer and Quentin Tarantino.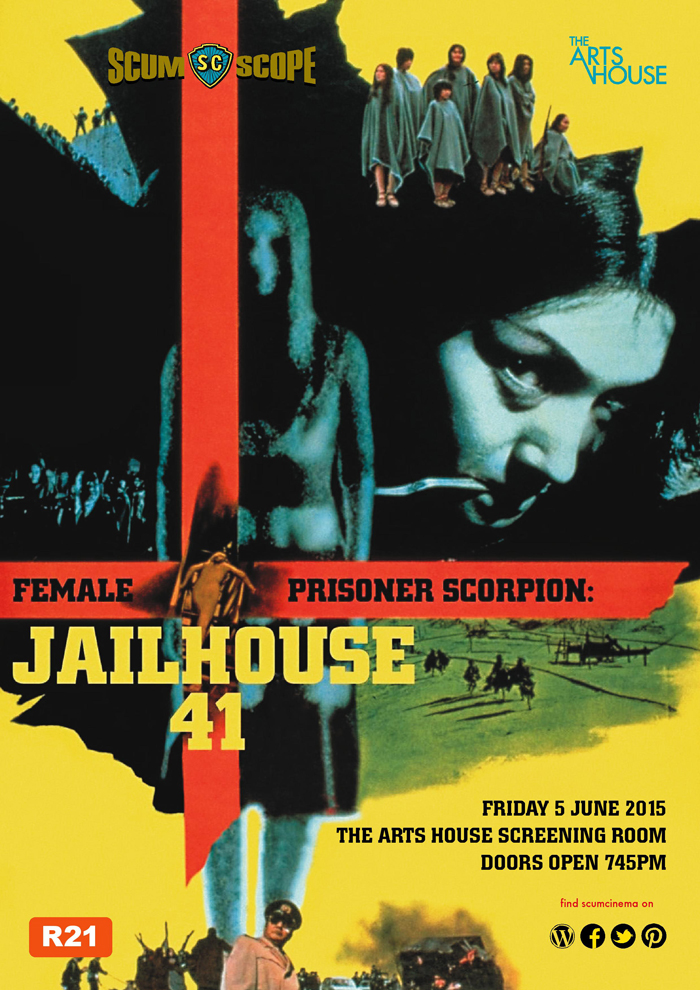 SCUM Cinema will be paying tribute to one of the best from the genre – Female Convict Scorpion: Jailhouse 41!
Director: Shunya Ito | Cast: Meiko Kaji, Fumio Watanabe, Kayoko Shiraishi
1972 \ 90min \ Japan \ R21 (Consumer advice: Some nudity & violence)

This classic Japanese psychosexual B-movie effort brings popular adult manga by Toru Shinohara to life in a frenzy of slashing and gore. This over-the-top jailbreak film pits an attractive young female prisoner, Scorpion (Meiko Kaji – whose singing talents featured on the Kill Bill soundtrack), against a sadistic warden and other adversaries! No one is secure when Scorpion stalks the wings with vengeance in mind.
—
How to reserve a seat for the event
Please click here to book your seats now!
Please read the information to book your tickets
The number of seats you'd like to reserve (maximum of 4 seats per email request)
—
IMPORTANT NOTES — PLEASE READ
• "Female Convict Scorpion: Jailhouse 41" is rated R21. Only adults aged 21 years or above (on the screening day) are allowed into the theatre. Please have your ID ready for checks — you will not be allowed entry if you fail to produce a valid ID upon request.
• A fully refundable fee of $8 will be charged for each ticket booking. Simply turn up for the event and show us your ticket reservations on your smartphone or if you don't have a smartphone, just tell us your name on arrival. Once confirmed, Peatix will refund your booking fee electronically thereafter.
• Seats are issued on a first-come, first-served basis (free seating arrangement). Once you've submitted your request, we will confirm your reservation. Your seats are not reserved until you hear back from us. Do note that you are only allowed to reserve a maximum of 4 tickets per transaction.
• "Female Convict Scorpion: Jailhouse 41" will start screening at 8:00PM on 5 June 2015. Please be at The Arts House Screening Room by 7:45PM to register and collect your wrist tags.
—