SCUM CINEMA PRESENTS:
5 Element Ninjas
VENUE: The Arts House Screening Room
DATE & TIME: 28 August 2015, 8:00pm
RATING: NC-16
COST: Free admission
When a quintet of nasty ninjas, hell-bent on world domination, nearly massacres an entire clan, its lone survivor must take the path of revenge to right the wrongs! He meets an old master well-versed in the ways of the ninja. Now armed with secret knowledge and newfound friends, he must battle the awesome power of the Five Element Ninjas – Gold, Wood, Fire, Water & Earth!!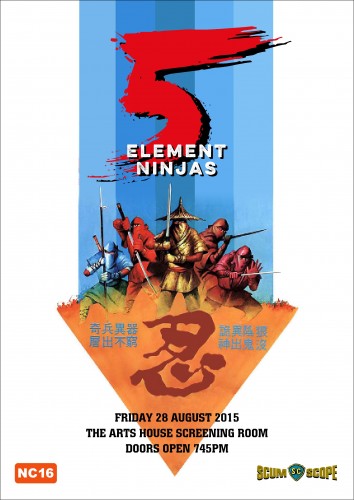 IMPORTANT NOTES — PLEASE READ
• "5 Element Ninjas" is rated NC16. Only adults aged 16 years or above (on the screening day) are allowed into the theatre. Please have your ID ready for checks — you will not be allowed entry if you fail to produce a valid ID upon request.
• A fully refundable fee of $8 will be charged for each ticket booking. Simply turn up for the event and register with us. Once confirmed, Peatix will refund your booking fee electronically thereafter.
• Seats are issued on a first-come, first-served basis (free seating arrangement). Once you've submitted your request, we will confirm your reservation. Your seats are not reserved until you hear back from us. Do note that you are only allowed to reserve a maximum of 4 tickets per transaction.
• "5 Element Ninjas" will start screening at 8PM on 28 August 2015. Please be at The Arts House by 730PM to register and collect your wrist tags.
• Seat reservations will close on 27 Aug, 8pm. Any cancellations MUST be done BEFORE the ticket cut-off date and time, otherwise your reservations will be locked-in. If you turn up for the event, the booking fee will be refunded, if not, it will be forfeited.
• The refund will be handled by the credit card company of the credit card used to purchase the tickets. The refund process will vary depending on the cut-off date of the credit card.
• Should the refund be done before the credit card cut-off date: The refund process will be handled in the current month so no money will be deducted for ticket payment. In most cases, both the ticket payment and the refund will appear separately on the credit card statement.
• Should the refund process be done after the credit card cut-off date: The payment of the ticket order will be processed. Peatix will refund the amount in the next month through a negative invoice
Note: Peatix are unable to look up cut-off dates of credit cards. Peatix accepts VISA, MasterCard and AMEX.